2015, a great success !
The 2015 vintage was unanimously appreciated by the greatest ……
The 2015 vintage was unanimously appreciated by the greatest …
The 2015 vintage was unanimously appreciated by the world's greatest tasters. In Bordeaux's vineyards, it's an unusual year, especially in Sauternes.
The summer was hot and dry until the end of August when a few showers allowed the noble rot to develop in optimal conditions.
Thus wines of Sauternes are very good, even exceptional.
Our estate's wines were particularly successful and acclaimed by the critics:
Château Haut-Bergeron 2015 got very good scores for this vintage, but also several awards:
91-93/100 – Neal Martin "The 2015 Haut Bergeron has a well-defined, quite linear and correct bouquet with subtle honey and acacia scent. The palate is well balanced, smooth int the mouth with white chocolate tincturing the honeyed fruit. I appreciate the acidity of this Sauternes – more understated than its peers, but sophisticated and well crafted. Bravo!"
17,5-18/20 – La Revue du Vin de France "Six pickings for this fresh and very fragrant wine between citrus and pineapple. Nice taut mouth that goes from a powerful attack to a very fine finish. Pretty duality between strength and elegance. A Chateau that rises every year. Bravo! "
95-96/100 – Bettane & Desseauve "Sumptuous expressions of botrytis of the year with a rather phenomenal liquor richness without loss of finesse or balance. "
Gold Medal – 2018 Frankfurt International Trophy Competition

97/100 – Platinum Medal – Decanter Awards 2018
---
Château Farluret 2015 was rewarded with the gold medal of the ELLE "a table" wine competition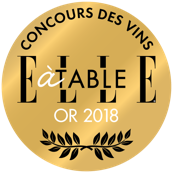 ---
Château Fontebride won the gold medal at the Paris competition for its 2015 vintage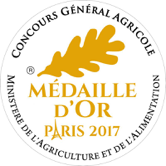 ---
The Ilot de Haut-Bergeron has been rewarded with two silver medals, one in the Paris competition and the other in the "prix plaisir" competition (less than 15 euros wine competition).